Heightened Security at RNAS Culdrose
Wednesday 13th October 2010
There were alarming security measures put in place when 10 Lerryn WI members together with 6 of their menfolk were allowed onto the military base, RNAS Culdrose, near Helston. Having completed security checks, the group were allowed onto a coach, closely watched by this anonymous, armed security soldier. The coach set off around the airfield where the group were able to see all aspects of this busy Naval airfield. Fortunately, the group were blessed with sunny weather and there was a lot of flying activity occurring.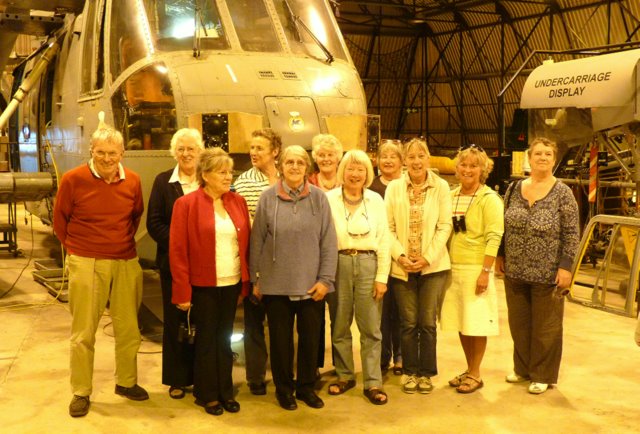 The group were allowed into a hangar where an old Sea King helicopter was available for closer inspection. We must hasten to add that the "Undercarriage Display" notice in the picture was nothing to do with the WI visit! In the picture from left to right are: Martin Jones, Joyce Searle, Marie Farey, Mary Jones, Alice Talling, Jan Collett, Lin Briggs, Rosie Brown, Kay Broadway, Julia Parfitt and Anne Butter.
Merlin helicopters were carefully checked ready for flight by engineers and crew before becoming airborne. Hawk trainer aircraft circled the airfield and landed and took off in pairs. The wind was in the east so the aircraft were travelling down the runway in the opposite direction to that normally used. At the end of the runway was a net barrier to "catch" any aircraft which had problems on landing. Other aircraft flying were Sea King helicopters, and twin engined Jet Stream training aircraft. On the ground was a large group of Naval and RAF Harrier vertical takeoff aircraft. Some of the Sea King helicopters were referred to as "Baggies" because of the bucket-like sonar equipment slung underneath the aircraft. These are often seen flying over Lerryn.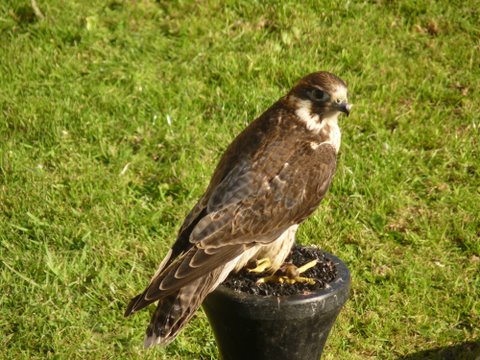 Bird strikes are a major hazard at the airfield and a variety of methods are used for scaring the birds away, including the use of 7 different hawks, three of which were seen, yesterday, by the group.
All in all, it was a very successful visit and thanks were given to Sue Daw for organising the trip.
Share this page