Seagull Race
Monday 28th December 2015
Report on the Lerryn Seagull Race of Saturday 19th December 2015
"What care we though for wind and weather," was the apt refrain of the intrepid mariners who took part in the 28th annual River Lerryn Yacht Squadron Seagull Race. Despite gale force gusts, piercing showers and an early 10.15 am start, 34 boats and about 100 hundred people fortified with mulled wine and mince pies, entered the race. The race is open to all, the only requirement being that the boats must be powered solely by a traditional seagull outboard motor.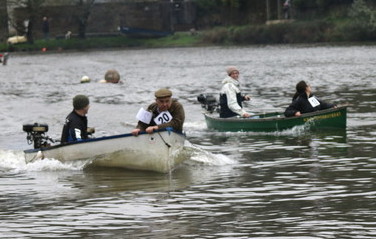 The theme this year was "Old Time Music Hall" and many of the competitors and boats, regardless of the conditions, were in appropriate fancy dress. After a safety briefing and an orderly Le Mans style start, competition was both frenzied and fierce as two laps of the taxing course from Lerryn to St Winnow Point and back were negotiated. To ensure that all was safe six safety boats were deployed in case of incident. The RLYS would like to give particular thanks to the Devon and Cornwall Police who supplied two officers and a fast response boat to assist in safety cover.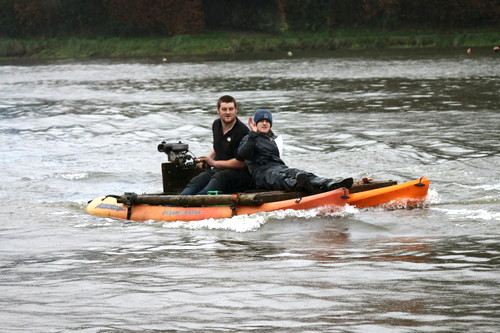 The results were as follows:
Winner largest class and Ship Inn trophy, Richard Philp
Winner over 12', A Southgate
Winner canoe, A Osborne
Team prize, Lowertown
Fast Lady, Becky Bruce
Best dressed boat, R Smith
Best costume, Treeve Fowler
Spirit of the contest, A Reddall
Concours d'elegance, J Kimble
Mystery place. J Hayward
The sum of £214 was raised for the RNLI and £261 for local charities.
Thanks to all the members of the RLYS who, once again, put on such a quirky and entertaining event.
To see more photos of the event, click on the image below:
They may take a little while to load
Share this page