Seagull Race Review and Results
Monday 4th January 2010
RIVER LERRYN YACHT SQUADRON
22nd Annual British Seagull Outboard Motor Race
This event, held on 29th December, was the wettest Seagull Race for many a year. It rained without let-up before, during and after the race and the grassy river bank was reduced to a squelchy, muddy mess. But even this failed to dampen the enthusiasm of the competitors who braved the elements and dressed themselves and their boats to the theme (Rig of the Day) of "Pantomime". They ended the race drenched but still smiling and headed to the Ship Inn for warmth, lubrication and the prizegiving. They were supported by a surprising number of doughty spectators who remained on the foreshore, in the rain, throughout the race. Mulled wine and mince pies were available in the Drill Hall all afternoon and a barbeque nearby.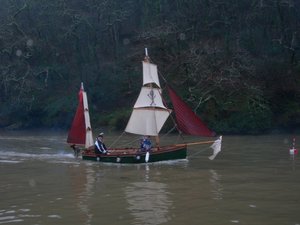 We always expect a much better turnout when the event is held in the week between Christmas and the new year and this year was no exception. 47 boats with between two and five crew entered the race, as against 40 boats last year in much better weather, and most of them finished the course. Can you imagine the characteristic sound of a Seagull engine at full chat? Multiply that by more than fifty times (several boats had two or more engines), add the blue haze hovering above the surface of the river, a few mini oil slicks and people pulling starter cords all along the course, you get the flavour of this famous spectacle. This is one day of the year when nobody worries about carbon footprints or noise pollution!
The prize for the Best Dressed Boat was won by Phil James whose boat was dressed as the genie and the lamp and even managed some smoke from the spout of the lamp!
The prize for the best dressed crew was won by Rod Tucker who was convincingly dressed as Ali Baba.
The overall winner of the race and winner of the Ship Inn Trophy was Tim Colyer. Class A (Canoes and Catamarans) was won by Andy Reid who also won the "Concours d'elegance" for the best turned out engine. Winner in Class B (Boats 12ft and over) was Tim Colyer.
First in Class C (Boats under 12 ft) was Mr. Southcoat.
The Fast Lady Trophy (first helmswoman to finish) was won by Caroline Vipond. The Team Trophy was won by the "Boathouse Pirates". Peter Pearce took the prize for the youngest competitor.
Some pictures can be seen on www.saving-old-seagulls.co.uk and a lot more on www.lerryn.net in the Lerryn Gallery Section

Share this page