St Veep Church Bells - celebration event of 13th July 2017
Saturday 15th July 2017
As part of our "Once in a Lifetime Opportunity" celebrations, we invited the whole community to St. Veep church on Thursday evening.
Our Virgin Bells were set out in the aisle of the church: this is the first time they have been on public display since they were refurbished by Taylors in 1936. In addition, the dismantled bell frame showing distinct signs of rust was laid out in the churchyard.
We were delighted so many people came along to take advantage of this opportunity - we estimated at least 80 and maybe 100.
Refreshments were provided by the W.I., many thanks to Flynn and all her team and also to the Supporters of St. Veep who provided a modicum of wine, coffee and soft drinks.
This made for an informative and convivial evening for a large number of the community and all of us at St. Veep Church would like to thank you for your support with the bell project.
The bells have now been loaded on a lorry and should by now have arrived at the bell hangers foundry at Bridport.
Finally many, many thanks to the volunteers, too many to mention by name, who helped remove the bells and the frame from the tower.
To see further photos of this event, go to the Photo Gallery or click on the bell below: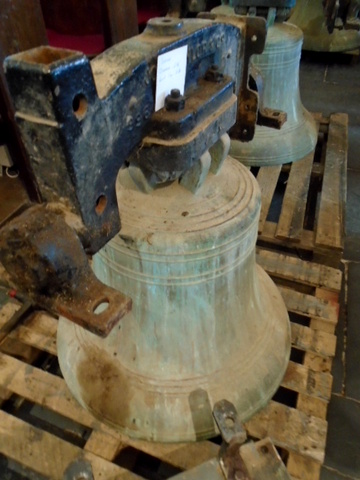 Share this page