Tuesday Club's visit to Looe Valley Vineyard
Tuesday 2nd October 2018
Our 2018-2019 programme of events started on Tuesday 25th September with a visit to Looe Valley Vineyard in St Keyne. About twenty members of the group made their way to the vineyard either by car or with the Lerryn Area Minibus on a dry and sunny evening.
Looe Valley Vineyard was established in 2008 on a sunny site in the East Looe Valley in South East Cornwall by owners Charles Boney and Sue Brownlow. Their aim was simple – to create high quality local artisan wines. The initial planting of Riesling-style white grape varieties Bacchus and Schönburger and red Frühburgunder (early Pinot Noir) was followed in 2010 with the new white grape Solaris which has Riesling, Pinot Gris and Muscat parentage. 5.500 vines are now established on around 4 acres. They made a very small trial batch of wine with the Solaris first crop in 2013. In 2014 they produced around 1000 litres of wine which is now on sale either at the winery or at several local retailers and restaurants. Production continues to develop each year with a new red introduced in 2016.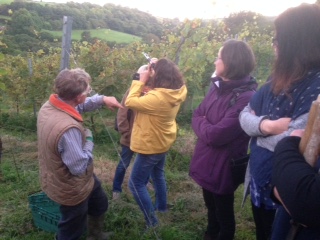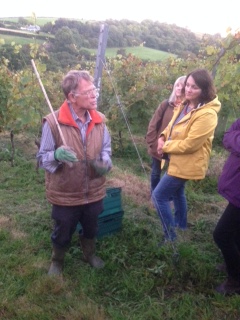 We were treated to a very informative evening. Charlie used to be a teacher and it showed. It is not an easy task to keep the ladies of the Tuesday Club in order but he managed it beautifully through a very interactive talk which was in three parts:
in the vineyard where we learned much about planting vines and summer and winter pruning
in the winery where we learned the process of wine making down to the bottling process
in their house where we learned the different steps of wine tasting
Our next visit is on Tuesday 29th October when we will visit a company in Par that transforms containers into living and working environments.
If you are a lady living in Lerryn who would like to join the Tuesday Club, please do not hesitate to contact Penny on 01208 873169.
Share this page