Local businesses
Architects
Bartram Deakin Associates Limited, RIBA Chartered Architects
Planning/Building Regulation Applications. Conversions and Refurbishment, complete design and build service. Residential, Industrial and Commercial Projects Undertaken.
Photo: Bungalow extension
Contact details
Peter Bartram
Fax: 01503 262571
Lisandra House, Fore Street, East Looe, Cornwall, PL13 1AD
Buildings Trades
Dave Maclennan - Electrical Contractor
Jason Fuller
Richard Halliday Joinery
Trevor Pearce - Carpentry; Painting; Decorating & Tiling
IT
Richard Morris - Computer and Maths
All your computer and mathematical problems solved. Including: PC repairs, PC cleanups and virus removal, 1 to 1 help with computer problems, website creation and more. Mathematics tuition from the basics up to A-level and beyond.
Contact details
1 Lerryn View, Lerryn, Lostwithiel, Cornwall, PL22 0QJ
Garden
Charles Morgan Garden Services
Turn your back for just a few moments and the lawn's turned into a jungle. Brambles, ivy and bracken are rapidly encroaching - we've all been there!
I offer a friendly, all year round service to quickly bring everything back under control. I can assist with special one-off projects or do regular gardening work:
Grass cutting
Trimming
General weeding
Brushwood control, particularly brambles, ivy, bracken
Hedge cutting, branch lopping
Firewood cutting, log stacking
Leaf clearance, composting
Borders and vegetable patches, new ones dug out, existing ones maintained
Call me to discuss special requirements. Charles Morgan 01208 872384 . charlesmorgan0504@gmail.com
Contact details
Charles Morgan, Proprietor
Miss May's Cottage, Lerryn, Lostwithiel, Cornwall, PL22 0PZ
Kennel and Catteries
Pelynt Boarding Kennels & Cattery
Established in 2003, Pelynt Boarding Kennels and Cattery has fast become one of the most repected kennels and catteries in Cornwall. Set in the beautiful countryside of South East Cornwall, just a few miles from the coast at Looe, our family run business provides new, modern boarding facilities to cater for both cats and dogs. Our aim is to provide a safe, happy environment so that your pet enjoys their holiday with us. If you or you pets have any specific requirements, please contact a member of our team, who will be happy to discuss them with you. Phone us or visit our website to send an email message.
Contact details
Higher Tregarrick Mill Farm, Pelynt, Looe, Cornwall, PL13 2LT
Leisure Activities
Encounter Cornwall
Encounter Cornwall has been running award winning guided canoe trips and kayak hire on the Fowey Estuary since 2006. From our base just across the river in Golant, our trips are an ideal introduction to kayaking on the Fowey's sheltered tidal waters, and are suitable for both families and those new to kayaking. Explore its Creeks & Backwaters on the high tide - or on the low tide venture down to its historic Harbours & Beaches. On both trips you will be paddling through an Area of Outstanding Natural Beauty and a Marine Conservation Area teeming with wildlife that includes kingfishers, herons, egrets, cormorants, various waders and if you're lucky a seal or dolphin. Our price includes kayaks and equipment, leaving you free to enjoy an experience which for many is the highlight of their holiday in Cornwall. We operate throughout the year and only need a minimum of two people to run a trip. We also offer kayak hire to experienced paddlers. With options for everyone from the complete beginner to those who want to be challenged - come and join us on the Fowey and as we say "go with the flow"!"
Contact details
The Boatshed, Golant, Fowey, Cornwall, PL23 1LN
Encounter Walking Holidays
The largest Self Guided Walking Holiday Provider in Cornwall is based right here in Lerryn. Offering tailor made self guided walking holidays arranged for single walkers, couples and groups. Choose your location, the length of your holiday and your preference for total distance and daily mileage. Explore anywhere along the 630 miles of the South West Coast Path or beyond - including the Saints Way, the Two Moors Way, Exmoor and Dartmoor National Parks. We will organise your accommodation, your luggage will be taken forward each day and we'll help with transport to and from your holiday - leaving you free to relax and enjoy the walking and beautiful scenery. We are always happy to help with free advice on any queries about walking routes in the South West whether for first time visitors or for our local residents - just phone or email for help.
Contact details
Damon Willcox
The Elms, 12 Cott Road, Lostwithiel, Cornwall, PL22 0ET
Polmartin Riding
Welcome to Polmartin Riding
We are devoted to horses and offer Trekking, Lessons, Training and Accommodation in a beautiful area of Cornwall.
We are a BHS Approved Riding School and Training Centre situated in the beautiful and tranquil countryside, near Lanreath, which is close to Looe and Liskeard and only a few minutes drive from Lerryn
Visit our website for more information (see below)
Contact details
Jane or Eric
Polmartin Farm, Near Herodsfoot, Lostwithiel, Cornwall, PL14 4RE
Retail
Lerryn River Stores
A local village store, Post Office, Cornish Deli and cafe, in the peaceful village of Lerryn. We welcome you for pasties, cider and more! With a focus on award-winning local produce, you will also find all your everyday needs, serving daily bread, barista coffees, hot and cold food and ice cream. All can be enjoyed on the green overlooking the river and beautiful Lerryn.
In addition, we have many gift ideas - and now - a cafe as well!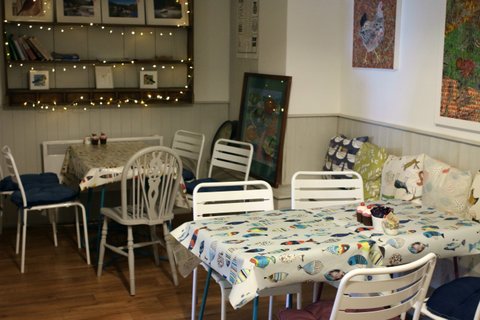 See photo gallery below for more images of Lerryn river stores
More info
Contact details
Michelle Coulson
Fore Street , Lerryn, Lostwithiel, Cornwall, PL22 0PT
Vehicle Services and repairs
Duchy Motors
Your local garage for servicing, repairs and MOT tests. We cater for all makes of cars and light commercial vehicles.
Contact details
Park Road, Lostwithiel, Cornwall, PL22 0BU
Other
Trewether Farm - Homemade Ice Cream
Try our new website for for a produce list. From Lerryn take the Lostwithiel Rd,Trewether Farm is on the right just past the St Winnow turn off. Watch for the signboard.
Contact details
TREWETHER FARM, LOSTWITHIEL, CORNWALL, PL22 0LE
Share this page